Vandaag een langere blog dan gewoonlijk, dat krijg je ervan als er zo veel moois gebeurt. Deze week is een feest voor geluksminnaars. Voor het eerst in de historie verbinden alle landen van de wereld zich in Parijs aan een reddingsplan voor onze Aarde. De paus opent in Rome een uitzonderlijke poort naar medemenselijkheid als start van een extra heilig jaar: "Het is belangrijk dat gelovigen een leven van barmhartigheid leiden en dit in alle delen van de samenleving uitdragen. Voorwaarts!" En Nederland viert haar eigen feestje. Een beetje omdat PSV 'overwintert in Europa', maar vooral omdat blijkt dat we nóg gelukkiger zijn geworden.
wat een geluk!
Op 12 december verscheen het rapport 'de sociale staat van Nederland' van ons Sociaal-Cultureel Planbureau (SCP). In vierhonderd bladzijden wordt beschreven hoe het met ons gaat. Samenvatting: het gaat heel goed met ons. Een paar geluksbevindingen van de onderzoekers:
– Nederlanders geven het leven een 7,8 als rapportcijfer. We zijn gelukkiger dan in 2004
– De kwaliteit van leven is in vergelijking met andere Europese landen hoog; alleen in de Scandinavische landen en Zwitserland is die iets beter
– Nederland is in Europees perspectief een tevreden natie. Nederlanders zijn positief over hoe het gaat met het land, opvallend positief over de nationale politiek en meer dan gemiddeld vóór Europa
– Nederlanders rapporteerden in 2014 de minste criminaliteit sinds jaren. In 2014 geeft 8% minder Nederlanders aan zich wel eens onveilig te voelen, vergeleken met 2010
– We zijn vooral trots op onderwerpen in de sfeer van samenleven en normen en waarden: vrijwilligerswerk, beleefdheid, saamhorigheid, mantelzorg en vrijgevigheid bij rampen.
Alsof dit allemaal nog niet genoeg is als klap op de vuurpijl: hondenpoep is de grootste bron van fysieke overlast. Zo goed gaat het dus met ons!
kanniewaarzijn ?
In de auto op weg naar huis hoorde ik voor het eerst over deze 7.8 score. Als altijd werd in het actualiteitenprogramma een deskundige erbij gehaald. Dit was de vraag die werd gesteld: '"Volgens het SCP voelen we ons gelukkig, hoe komt het dan dat we zo vaak denken dat het niet goed gaat met ons?". Een antwoord zag ik de volgende dag in de supermarkt. Twee landelijke ochtendbladen openden met het SCP-onderzoek met totaal verschillende koppen: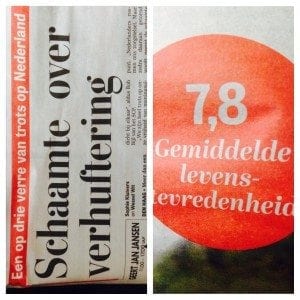 De linker-kop heeft nog de grootste oplage, ondanks mijn eerdere blog hierover (https://www.multiplyhappiness.nl/afvallen-met-het-nieuwsdieet/). Ik ben blijkbaar nog niet klaar als geluksman. Maar mijn hart veerde onmiddellijk op, toen ik in het NRC las hoe Marike Stellinga het rapport verwoordde onder de titel "we zijn het allerliefste land – nog steeds". Dat geeft energie, net als deze quotes uit haar column:
– "Het is een immens compliment aan de Nederlandse overheid als een buffer voor ellende. Want hier is een historische crisis zodanig opgevangen dat veel gewone mensen er kennelijk niet door in mineur raakten"
– "Alle veranderingen, die nog komen, landen bij een positief en tevreden volk… Beter gepositioneerd kan een land nauwelijks zijn om een onzekere toekomst in te gaan".
Feiten zijn feiten, hoe we ermee omgaan, blijft onze keuze: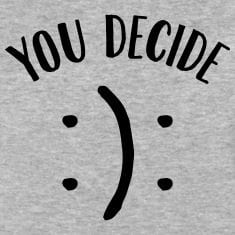 het geluk van effect
Tot slot wil ik nog één gelukslijn uit het onderzoek halen. We zijn opvallend gelukkig met onszelf, ons gezin en onze straat. Maar daarbuiten… owee, wat eng. Ondermijner van geluk is spanning over dingen die we niet kunnen beïnvloeden, zoals de financiële crisis, aanslagen, opwarming van de aarde, werkloosheid en vluchtelingenstromen. Dreigende berichten over ongrijpbare zaken die ooit kúnnen gebeuren en waar we niks aan kunnen doen, leiden tot angst. Ieder van ons heeft een 'effectuation motive': de behoefte om invloed of regie te hebben. Die invloed ervaren we meestal in onze directe omgeving en daar vinden we dan ook ons geluk. Het blijkt ook bij het SCP: "Voor tevredenheid met het leven is regie over het eigen leven het meest van belang". Het gevoel van controle scheelt soms twee punten in levenstevredenheid op een schaal van tien en is daarmee belangrijker dan opleiding, inkomen of gezondheid!
Aan het werk dus met een gelukmakende oefening. Maak een lijstje van tien dingen in je leven, vijf waar je gelukkig van wordt en vijf waar je ongelukkig van wordt. Vervolgens zet je achter elk item een A, b of x. Een A wil zeggen 'heb ik volledig in eigen hand', een b 'heb ik invloed op' en een x 'totaal buiten mijn controle'. Daar waar je een A hebt gezet: geef hier extra aandacht aan en benut dit nóg meer voor je geluk. Waar een b staat is de vraag: hoe kan ik dit beïnvloeden, wat kost het me en wat levert het me op aan geluk? En waar een x staat is het devies: wees dankbaar voor de positieve zaken en accepteer de negatieve.
"schenk mij de gemoedsrust om te accepteren wat ik niet kan veranderen,
de moed om te veranderen wat ik kan
en de wijsheid om het onderscheid te maken"
Ik gun je óók vandaag mooie momenten van geluk
om te genieten
en te delen.
chiel
meer lezen?
het SCP-rapport
http://www.scp.nl/Publicaties/Alle_publicaties/Publicaties_2015/De_sociale_staat_van_Nederland_2015
de column van Marike Stellinga
http://www.nrc.nl/next/2015/12/12/het-allerliefste-land-ter-wereld-nog-steeds-1566462
artikel in NRC
http://www.nrc.nl/next/2015/12/15/voor-onze-familie-zorgen-we-goed-voor-de-buren-wa-1567311
over effectuation
https://en.wikipedia.org/wiki/Effectuation
effectuation at large corporates and  bureaucracies
http://essay.utwente.nl/65034/1/Oude%20Munnink_MA_MB.pdf
de eind-quote
https://en.wikipedia.org/wiki/Serenity_Prayer